---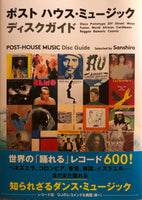 Post House Music Disc Guide ポスト ハウス・ミュージック ディスクガイド
Regular price $20.00
Tax included.
A guidebook of dance music from around the world, written by our good friend Sanshiro Matsushita, based on the concept of being able to mix.
友人でもある松下三四郎が書き上げたミックスできるをコンセプトにした世界各地のダンス ミュージック ガイドブック。
Infomation is below/以下詳細
The author is a record digger and DJ who runs the Deep Dance Music Page, a blog that introduces all kinds of dance music records from around the world.
Including guest selections, there are about 600 records in total!
世界のあらゆるダンス・ミュージックのレコードを紹介するブログ「Deep Dance Music Page」を運営するレコードディガーであり、
DJでもある著者が選ぶ、世界の約500枚をジャケット付きで掲載。ゲストチョイスも含め、全約600枚!
◆Introduction of records based on 12 themes. 20-50 records selected each.
Disco, Prototype, DIY, Street, Wave, Fusion, World, African, Caribbean, Reggae, Balearic, Cosmic
◆Special Interview
DJ Antal, owner of the prestigious label/record store "Rush Hour"

NU GENEA, a disco/funk unit born in Italy
◆Recommendations and comments from 20 record stores and DJs, 5 discs each.
Organic Music/Physical Store, EAD RECORD, OUTRECORD, NOTHIN' BUT RECORDS, Rubbergard Record, Revelation Time, Coconut Disk Ekoda, silencia music store RECORD SHOP rare groove, ranamusica, Galapagos Records, VDS(Vinyl Delivery Service), Sunline Records, Mori Ra, Hankyovain, Hiroko Otsuka, Mayurashka Sobriety, Pixie, Akie

◆12のテーマに沿ったレコードの紹介 各20~50枚ずつチョイス
Disco、Prototype、DIY、Street、Wave、Fusion、World、African、Caribbean、Reggae、Balearic、Cosmic

◆名門レーベル/レコード店「Rush Hour」を率いるオーナー・DJ Antal
◆イタリアが生んだディスコ/ファンクユニット NU GENEA
特別インタビュー掲載

◆総勢20の有力レコード店/DJのレコメンド盤&コメント、5枚ずつ掲載
Organic Music/Physical Store、EAD RECORD、OUTRECORD、NOTHIN' BUT RECORDS、Rubbergard Record、Revelation Time、ココナッツディスク江古田店、silencia music store、RECORD SHOP rare groove、ranamusica、Galapagos Records、VDS(Vinyl Delivery Service)、Sunline Records、Mori Ra、Hankyovain、大塚広子、Mayurashka、Sobriety、Pixie、Akie
Shipping Cost/送料
Asia(Registered air mail e-packet 1050jpy, Unregistered air mail 750jpy)
Europe (Registered air mail e-packet 1270jpy, Unregistered air mail 960jpy)
USA (EMS 2400jpy,Unregistered air mail 1270jpy)
日本国内全域 クリックポスト 198円